Biographical Sketch: George B. Cuff, FCMC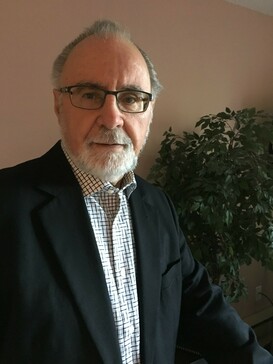 George Cuff has a Canada-wide reputation amongst municipalities, crown agencies and other public sector bodies as an advisor, consultant and author on the art and principles of governance and the elements of effective organizations. His background includes a Bachelor of Arts (Recreation Administration)(with distinction) degree from the University of Alberta and work experience in banking, oil and gas, recreation administration, environmental protection, local government and the private sector. He has been involved in various aspects of local government since his days as a youth advisor and playground leader in 1970 for the City of Edmonton. He has since applied his academic and experiential observations to his role as advisor to numerous small and large public sector organizations across Canada.

George barely got through high school having found sports and girls a distraction from his studies. As a result, he did not go directly to University but began work as an accountant with the Royal Bank and then after a couple of years there, he moved on to an oil and gas company where he continued his frustration as an accounting clerk. Seeing the initials behind the name of his boss spurred George to consider University and after a year at Concordia College (1969-70) (required by the U of A) he entered the Faculty of Physical Education and Recreation (1970-74) where he thoroughly enjoyed his learning and his new colleagues and teachers. Some of the latter have remained lifelong friends including former Recreation Department Chair Professor Al Affleck who was like to father to George and whose eulogy George was honored to deliver at Al's passing.
George began his full-time work as a consultant (1976) with the then Alberta Department of Recreation, Parks and Wildlife as an advisor to recreation boards and local governments. He was later retained (1979) as a consultant with the then firm of Woods Gordon in its Edmonton office (now Ernst & Young) where his consulting focusing on organizational studies and executive recruitment. George subsequently set up his own firm of George B. Cuff & Associates Ltd. (1984) and since then has focused on providing advice and counsel to rural and urban governments, provincial departments and agencies and other groups involved in some aspect of governance and public service. His work has become more focused over time on the art of governance and the elements that help organizations become more effective.
George is able to assemble the best minds in a particular field on short notice for significant engagements
On larger assignments and as the need dictates, George utilizes a wide variety of seasoned professionals who offer their services through George on a per diem basis. As a result of this approach, George is able to assemble the best minds in a particular field on short notice for significant engagements.
George has published over 450 articles as well as ten books on local government. He has three "how to" books (Cuff's Guide Volumes One and Two as well as his "Executive Policy Governance" which was published in 2014. He also has three books of articles in an "Off the Cuff" series published by Municipal World www.municipalworld.com and a book of fictional stories (Life in the Trenches) set in the world of local government. His book "Leading: The Real Role of a Mayor and Council" was released in 2019; a very different book (Tucker Goes to City Hall) was released in 2020; and The Mayor, published in 2021.
George brings to bear the perspective of one who has worked within organizations on an administrative level and one who has helped in a leadership capacity. He served four terms as Mayor of Spruce Grove, Alberta having been first elected in 1977. In addition to having chaired numerous boards and committees, George is also a Past President of the Alberta Urban Municipalities Association (1982-83) and the Federation of Canadian Municipalities (1988-89). He has subsequently received the Award of Excellence from both of those organizations. George was also recognized as one of Alberta's contributing citizens by being awarded the Centennial Medal marking Alberta's 100th year of incorporation (2005). He was honoured by his profession in 2007 when he was awarded the designation (FCMC) as a Fellow of the Canadian Management Consultants Association. George was honoured in 2014 to receive the University of Alberta "Alumni Honour Award" for his contribution to his profession and to his community.
On a personal level, George is married to Arliss and they are the proud parents of three daughters (Jill, Michele and Heather) and granny and grampy to six grandchildren. Both George and Arliss are very active in their local church (Parkland Baptist) in Spruce Grove and supportive of a ministry in Romania. The proceeds of George's writing go towards supporting a children's camp and church communities in northwestern Romania.
George continues to consult to a wide variety of organizations and enjoys the opportunity to add value by his forthright style of reviewing, reporting and advising. In addition to his 450+ governance reviews, he has spoken to 700+ groups and organizations on quality management and best governance practices. He will likely continue to do so as long as his phone/e-mail still receives requests.